At John Lawlor Plumbing & Heating we design and supply underfloor heating systems to the residential, commercial and industrial sectors. All of our projects come with professional planning and design prior to any installation.
This gives our customers the most cost-effective and efficient heating system to suit their house layout. This process is suitable for both retrofitting and new build projects.
Our systems allow you control temperatures in each room independently and underfloor heating has been proven to reduce issues with dampness and excess moisture in the room.
You also have the added benefit of adding more space to your rooms because you no longer need radiators.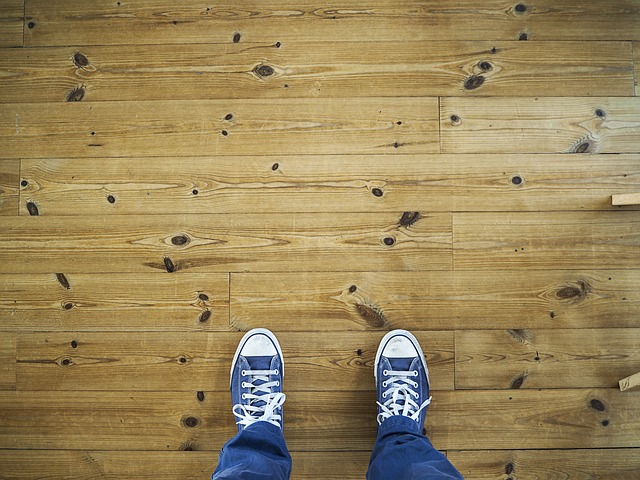 Polycomfort Mat Panel (Wet) System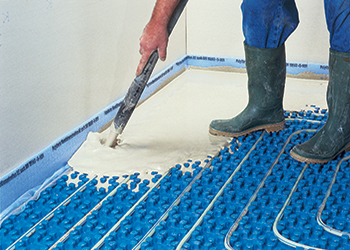 This mat panel system can accommodate 14×2 or 16x2mm pipe and can easily be adapted to any size room. Ths user-friendly contour of the panel and overlapping press stud system allows for a fast, secure and efficient install of the underfloor heat piping.
It meets all standard acoustic insulation, thermal insulation, thermal performance and fire protection requirements. Suitable for use with cement self-levelling and this-bed screed.
Tube Holding Bar Rail (Wet) System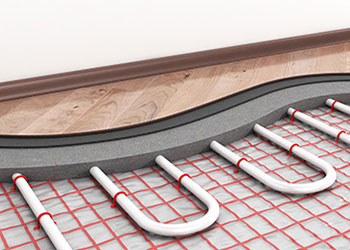 The underfloor heating pipe is secured to the subfloor in a predetermined piping pattern prior to pouring of the screed.
Initially, the floor is covered with insulation sheeting and the rail holding bars are placed at approximately 1m intervals on top of the insulation. The rail and other sections of the piping are held in place through the use of staples. As with Polycomfort, this system is suitable for use with cement, self-levelling and thin-bed screed.
Heatrack Wooden Panel (Dry) System
This patented concrete free underfloor heating system features 1.22m long 12mm thick panels backed with aluminium.
They are neat, fast and easy to install and are ideal for new builds and retrofit applications as they can work with all floor surfaces.
Heatrack responds to temperature change quicker than concrete, uses lower temperature water and has reduced energy costs in comparison to other underfloor heating systems.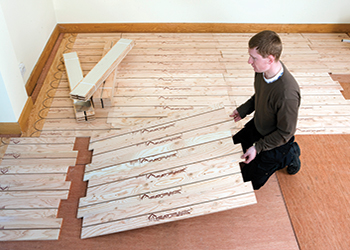 Benefits of Underfloor Heating
Why not experience the ultimate in thermal comfort with underfloor heating. The benefits of underfloor heating are:
Lower energy consumption
Lower bills
Adds value to your house with a better Ber rating
Safe Silent and Invisible – no need for bulky radiators taking up valuable floor space.
Maintenance Free
Provides even heat distribution for the greatest thermal comfort
No air movement which helps prevent accumulation of dust particles -healthier building
Controlled Easily by a Thermostat- giving you heat where you need it when you need it -eliminates waste.
Easy to install in new-builds or Retro-fits